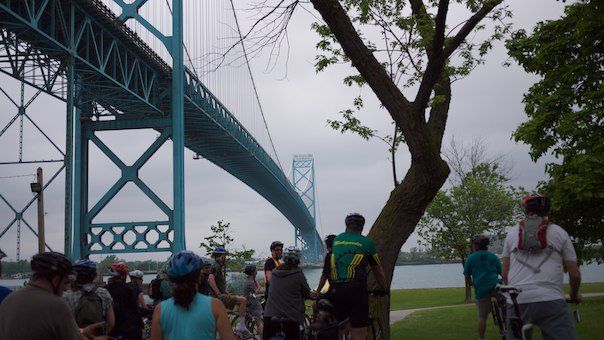 This is a very special Biking event. The Ambassador Bridge, spanning from Detroit to Windsor, pauses traffic to allow bikes to cross. Canadian riders will ride to the US, across the bridge, and meet up with the Americans. Then both the Canadians and Americans will ride back across the bridge. A delicious Breakfast will be provided after the bridge ride, at Canada's beautiful Mic Mac Park. Breakfast will be provided by Tres Bean Cafe' of Windsor. We also plan to have a special guest speaker. Then one of two tours can be selected. The short tour will be approximately 15 miles/ 24 KM in length. The Long tour will be approximately 40 miles/ 64 KM in length. Both tours will focus on the theme of the 200th anniversary of the War of 1812. The long tour will include a trip to Fort Malden. At the conclusion of the tours Americans, will be bussed back across the bridge and their bikes will be transported via truck. You will also receive a uniquely designed T-shirt as a memento of the event. If you want to attend this event you must have a valid Passport, Passport card, enhanced driver's license, or Nexus card at the time of registration. This applies to everyone attending this event.

NOTES:
If you have had radiation treatment recently please inform us so we can get you a medical clearance ahead of time. Xrays do not count as radiation treatment.
Helmet Cams will not be allowed on Bridge property this year.
There is online registration only. No registration the day of the event.

All riders must be over the age of 16, no exceptions.

All riders must wear helmets.
Alcohol prohibited.
Riders will be dealing with Customs and Border Protection (Homeland Security) and Canadian Customs, as well. All applicable laws apply.
Riders must have a valid passport, a passport card, enhanced driver's licenses, or a Nexus card, to participate...no exceptions.
BE SURE TO KEEP THE ID YOU USED TO REGISTER ON YOU AT ALL TIMES!
You may be stopped by Customs to show your ID.
All proceeds go to Michigan Trails and Greenways Alliance.


ENTRY/EXIT REQUIREMENTS: Riders must obey traffic rules as apply to bicycles in both countries.

No stopping on the bridge.

NO DAY OF ENTRY REGISTRATION.

**No selling of entry to another party.**

RIDE GOES ON RAIN OR SHINE.

Registration will close 2 weeks before ride date, even if not full, so that all the necessary paperwork can be sent to the appropriate agencies at their request. June 1, 2012.
Registration for American riders starts at 6:15AM.
Check-in for the US participants will begin at 6:15 AM at the State of Micchigan Welcome center. The Welcome Center is located at 2835 Bagley Street, Detroit, MI 48216, US. Parking is located at the Welcome Center and surrounding streets. Please pay attention to posted parking signs if parking on a nearby street. Check-in will end promptly at 7:15 AM and the riders will assemble to cross the bridge
where Bridge Officials will provide safety instructions.
The ride across the bridge is steep so please condition yourself before the ride and make sure your bike is in good working order. Be especially cautious that your brakes are in working order. After the ride across the bridge we will ride to Mic Mac Park, in Canada, for a delicious breakfast.
Americans who are arranging their own transportation home need to email Mary Grant ahead of time. We need an accurate count to ensure no one is left behind.
Please remember to bring:
ID (whatever you registered with MUST be with you)
Helmet
Water
Layered Clothing
Comfortable Shoes
Sunscreen
Registration for Canadian riders starts at 6:15am.
Please arrive on time! We have 100 or more people to park, register & instruct so we would appreciate it if you do your best to arrive close to 6:15 AM.
The registration process takes about 20 minutes and around 7:00 am we will walk our bikes across the road and then ride the very short distance to the first staging area for the Ambassador Bridge.
Around 7:10 AM will will get our final words from customs, then we will proceed across the Bridge to meet up with the U.S. riders. Then we will cross the Bridge as one large group. After the Bridge crossing we will ride to Mic Mac park for a group breakfast.
If you are running late, you must park and register and meet up with our group BEFORE we clear the first staging area. After that point you will not be allowed to join us and you forfeit your registration.
The Ambassador Bridge has again given us access to a prviate parking lot located just west of the Bridge entrance.
Parking is available at the Ambassador Bridge lot located on Huron Church Road across from the bridge's exit/customs plaza. This turns into a one-way street just before the parking lot so you must access it from Riverside Drive, University Avenue or Wyandotte Street. Regardless of which of these cross streets you come from, turn south onto Huron Church Road. Just past Wyandotte you will drive under the Ambassador Bridge and you will see a plaza on either side of the road; just past that are some overhead lights and immediately to your right there is an entrance to the parking lot (just where the concrete wall ends). Pull in and lot attendants will have you park at the far end of the lot.
Because the street is a one way and is near the bridge, there is no sidewalk to enter from the south side. If you are arriving by bicycle and are coming from the south side, you must go around via Indian Road (there is a pathway just past the McDonalds) or via Wyandotte.
Please remember to bring:
ID (whatever you registered with MUST be with you)
Helmet
Water
Layered Clothing
Comfortable Shoes
Sunscreen
We look forward to seeing you Sunday morning for this great event!
If you have any questions call Windsor's information line at 311.
http://bikethebridge.wordpress.com/