Garmin GTU 10 - Stick it on a bike and track it?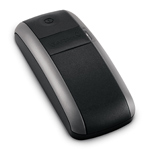 It's small, lightweight and waterproof.
Uses a high-sensitivity GPS, and can use cell tower triangulation for approximate location.
Operates on a GSM wireless connection with U.S. national coverage.
Includes 1 year of Standard Tracking.
Includes a built-in rechargeable Li-ion battery.
Locate devices on demand using your computer or mobile device.
Set up to 10 geofences and receive text message or email notifications upon entry/exit.
Customize device settings, including battery and speed alerts.
Send invitations for family members and friends to follow your device for a specified amount of time.*
Access 1 day of track history with Standard GPS Tracking.
Access 7 days of track history and advanced features with Deluxe GPS Tracking*.
Automatically renew services upon expiration (if desired).
There are no early termination fees, activation fees or contracts.
*Requires a Deluxe GPS Tracking service plan.
How It Works
The GTU 10 is small, lightweight and waterproof. It easily attaches to a backpack, pet collar or whatever is important to you.
When you purchase a new GTU 10, it comes with 1 year of Standard GPS Tracking (see the coverage map), so you'll be ready to go once you register and activate it in your Garmin account.
Then, you can view the location of your GTU 10 on a map from the friendly confines of your computer. For an added level of convenience, you can download the free Garmin Tracker app for your mobile device.
Using your computer or mobile device, you can also:
Create up to 10 geofences (virtual boundaries) for your device. When your GTU 10 enters or exits a geofence, we can send you an email or text message.
Create continuous gps tracking sessions (location reports every 15 seconds for up to 5 hours).
Send invitations for others to track your activities*. It's perfect for tracking races or workouts.
View history of where your GTU 10 has been.
Schedule times for your device to wake up and report its location*.
Receive alerts when a defined speed is exceeded.*
Customize device settings for optimal performance, including low battery and speed alerts.
| | | | |
| --- | --- | --- | --- |
| | | | |
| Attach your GTU 10 to what you want to track. | Your GTU 10 enters or exits a geofence that you set up. | We notify you with an email or text message. | You can also locate your GTU 10 on your computer or mobile device. |
Make It Yours
The features of the GTU 10 are so flexible, allowing you to use it to fit your lifestyle.
Travelers: Locate luggage and belongings so nothing gets left behind or lost.
Parents: Track your children on their way to school to make sure they arrive safely.
Pet owners: Receive notifications when your pet exits a geofence so you can go track it down.
Runners: Let friends or family track your whereabouts on your daily run, or your progress on race day.
*Requires Deluxe GPS Tracking service plan.